Extreme Eiger
The Race to climb the direct route up the North Face of the Eiger
Peter & Leni Gillman, with Jochen Hemmleb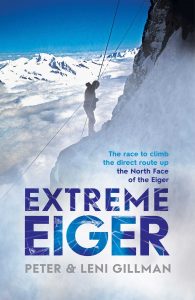 In February 1966 two climbing teams arrived beneath the North Face of the Eiger in Switzerland, notorious as the most dangerous face in the Alps. They aimed to climb the face by a new 'direct' route, following a straight line from bottom to top. One team consisted of four internationally renowned climbers, led by the charismatic and controversial American John Harlin. The second team comprised eight lesser-known climbers from southern Germany. Harlin planned an Alpine-style dash for the summit, whereas the Germans, who carried a mass of equipment, intended a slow, relentless ascent. The race was on.
Over the next five weeks ,an extraordinary drama was played out on the face. The teams battled ferocious weather, shortages of food and equipment, illness and injuries. They followed separate lines at first, sometimes climbing within a few metres of each other. But as they progressed, a measure of co-operation crept in. In late March the climb reached an extraordinary climax, mixing disaster and triumph.
The Eiger Direct, as it was known, affected the lives of those who took part in different ways. Some suffered permanent injuries. For others, such as Chris Bonington, Britain's most eminent mountaineer, it provided a vital stepping stone in his career. Watching throughout was Peter Gillman, assigned to cover the climb for the Daily Telegraph, but gradually drawn into the action. In Extreme Eiger, he vividly recreates a compelling narrative of events on and off the mountain, a drama that gripped a global audience. With contributions from the climbers and their families, he and co-author Leni Gillman reveal how the impact of the Eiger Direct has resonated to this day. It is a story redolent of a golden age of adventure and mountaineering.