Detectives on Everest – Archaeology at High Altitudes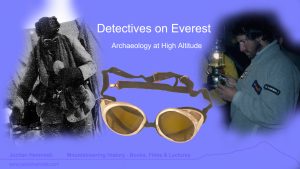 Throughout exploration history, forensic archaeology has been used to shed new light on unresolved riddles. Examples include the investigation of the possible murder of American polar explorer, Charles Francis Hall, and the mysterious disappearance of Sir John Franklin's expedition in search of the Northwest Passage. In either case, archaeological and forensic research provided new insight into the past events, even more than a century later.
The "Mallory & Irvine Research Expeditions" to Mount Everest in 1999 and 2001 were the first to attempt an archaeological investigation at extreme altitude (>8000 m). The lecture presents an overview of the investigation techniques used and developed, the actual work on the mountain, and its results.
Duration c. 25 mins – for popular science venues. Conditions on request.