Ghosts of Everest – The Search for Mallory & Irvine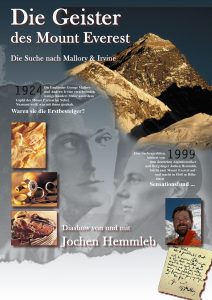 On May 29, 1953, Edmund Hillary and Tensing Norgay became the first to reach the summit of Mount Everest (8848 m), the highest mountain in the world. Or so history books tell us.
Twenty-nine years early, the two British climbers George Mallory and Andrew Irvine had already attempted the ascent. On June 8, 1924, they were last seen less than a thousand feet from the summit before disappearing in the clouds.
Did Mallory and Irvine reach the summit before they died?
Sixty-four years later, 16-year-old Jochen Hemmleb reads a book about the mystery – and is hooked. For eleven years he researches the story before becoming one of the initiators and members of the "Mallory & Irvine Research Expedition" to Everest.
In "Ghosts of Everest" Jochen Hemmleb recounts the mystery, the years of research and preparation, the results of the search on the mountain, and the answered and unanswered questions in the "Mallory & Irvine case". It is a gripping detective story that begins in Hemmleb's family home in Germany and ends with a breathtaking discovery on the icy heights of Mount Everest …
Lecture duration c. 80 Minutes – aimed at adult and juvenile audiences. Public (libraries, adult education centers etc.) and private venues. Conditions on request.